Just in our country, 10,000 individuals turn 65 every day. Seniors are most susceptible to disability, chronic illnesses, Alzheimer's, heart disease, and heart attacks by the age of 85. According to statistics, older people in their 80s are more likely to fall. At age 65, the likelihood of cognitive impairment is minimal, but by age 85, the likelihood can be significant.
Single seniors without children, or couples with children who live far away, might feel insecure as they age without assistance. Even if being at home is essential to you, you might still be worried about safety, transportation, or other everyday tasks. Our highly qualified staff can assist in locating resources that will make daily living safer and easier. We collaborate with you to develop short- and long-term care plans, identify the services you require, locate solutions that fit within your budget, and take your financial objectives into account.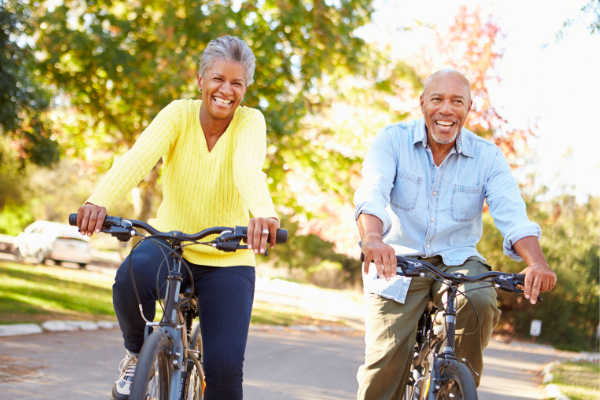 Individuals most frequently contact us for assistance with one or more of the following activities:
Medical or Disability Advocacy, Medication, Health & Wellness and Disability, Medical Power of Attorney
Planning for Dignity to handle care concerns in pre-retirement planning
Psychosocial and cognitive supervision and support
Financial- Daily Money Management/Routine Bill Payment, Durable Power of Attorney 
Environmental Areas, Housing, Safety, Mobility and Modifications
Legal – Supporting your own lawyer in legal matters
Crisis Intervention or Hospital Discharge Planning
Your ability to function in your surroundings determines how we work. Our method often starts with an assessment to understand the individual's circumstances, if we aren't assisting someone with future planning. We must understand the client's degree of functioning, present social support system, medical requirements, current medication, and healthcare providers. In the assessment process, the patient is interviewed, important medical records are gathered, a personalized action plan is created, and the options are discussed with all parties involved in the patient's care.
A Life Management Advocacy Plan (LMAP) is created through our assessment process based on individual circumstances. Depending on the individual's particular needs, we utilize a variety of assessment tools, and we continue to evaluate the fundamental needs as we continue to provide support for the individual's situation. The Life Management Advocacy Plan (LMAP) is revised at least once a year after consultation with the client, their family, and any other professionals engaged in their care. Our services have given individuals great peace of mind, from routine bill payment to assisting you in making plans for long-term care and safety.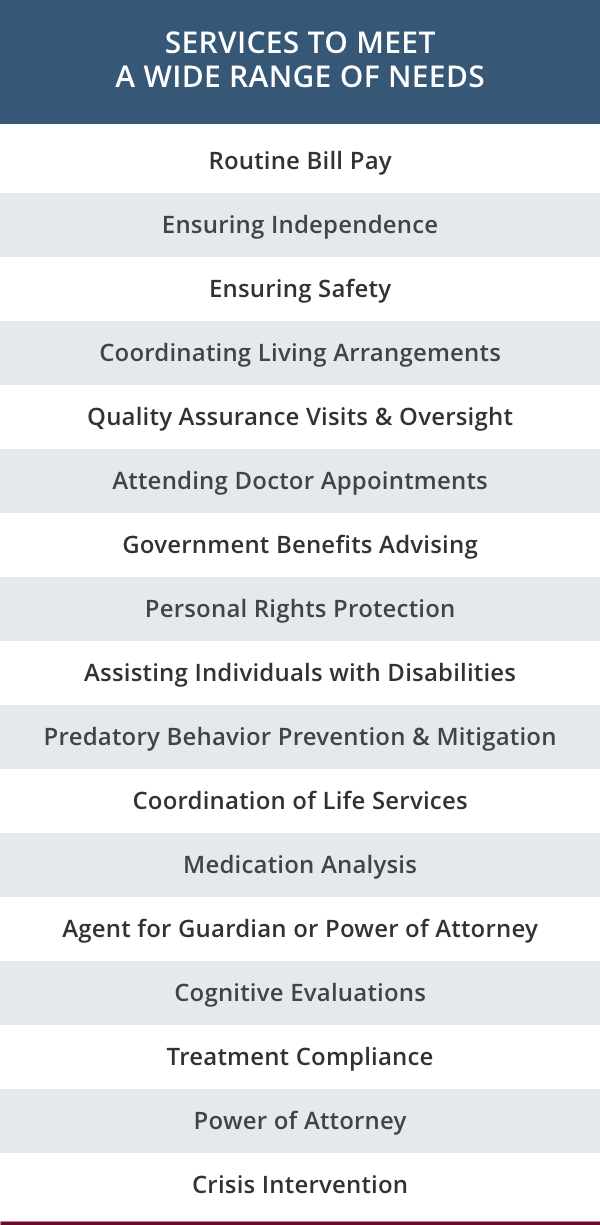 When You Work With Us, You Can Expect:
A reliable, trustworthy, and professional presence —By being a dependable presence in both good and bad times, we strive to support your best interests, foster trust, interconnection, and confidence.
Confidentiality  — We strive to gain your trust. We are aware that we are involved in some of your life's most private matters. We go above and beyond to protect your privacy and confidentiality.
Result-oriented innovation — Healthcare service providers often concentrate on how they've always done things. Many providers want you to fit into the way they do things. Unfortunately, they don't always provide what customers want or expect. Our Eastern Pennsylvania IKOR team is renowned for producing outcomes via innovation in both our work and our programs. We customize our services to fit your unique wants and situation.
Personal and organizational accountability — We make an effort to create a work environment that is transparent and accountable to you, your family, and our referral sources. Our invoices, notes, and conversations are precise, comprehensive, and transparent thanks to our web-based Datikor 2.0 system.
Collaboration — We strive to use the combined genius of our team and yours. We work to resolve disputes amicably and to encourage cooperation among all parties.
Commitment to your best interest — A fiduciary standard of care is something we support. We collaborate with anyone else you name while putting your interests first at all times.
FAQs By Our Individual Customers
In order to design a program specifically for you, we work to understand your needs. We set short- and long-term goals to support the areas of your care and work to make the systems of care work for your care-related needs. In order to lower the possibility of a crisis, we look for areas in your assessment where you might be vulnerable. Based on your needs and how we anticipate you will use us after the assessment, we have a menu of personalized services and programs. During our no-cost consultations with you, we are honest and thorough when discussing the pricing. We strive to keep your costs reasonable and add value by lowering risk and enhancing quality of life. Complex crises can increase the cost of crisis work. Therefore, the best course of action is to involve us in risk reduction long before a crisis arises.
An RN patient advocate conducts the assessment, going through a detailed checklist to get a true overview of your life. The RN Advocate collects information from you, and compiles a comprehensive report on you. They  search for areas where you are vulnerable now or in the future as they write the assessment, and they set goals to prevent crises. The RN Advocate then discusses their ideas with our mental health social services team in order to address concerns with cognition and mental health. When there are issues with bill payment, estate planning, or power of attorney, we call in our team of financial advocates.
Depending on what transpires and how you choose to engage us, we may attend medical and care-related appointments, show up at the hospital to address any concerns, and assist with discharge planning. In order to become experts on your care, wellbeing, and advocacy for your dignity and best interests in every circumstance, we anticipate your needs in every interaction on your behalf. Because we can help you make the most of your money when we understand your financial situation, you can make decisions that are based on your financial objectives rather than just how things feel emotionally. We determine your level of care and your preferences if you need to move into a care facility, and then we search for a facility that can accommodate both your financial needs and your care requirements. Then, using your Medicare, Medicaid, or long-term care insurance benefits to your advantage, we provide oversight and support through various levels of care.