As a trusted advisor to elders, people with disabilities, and their families, most professionals eventually realize they have reached the limit of their expertise. Many professionals are aware of some of the care-related programs available in their area, but comprehending all of the government and private programs, as well as navigating these complex areas for your clients' specific circumstances, can be time-consuming and difficult. Medical and care-related issues have a considerable impact on the legal and financial situation of our aging clients. When professionals feel overwhelmed and at the limit of their knowledge, they tend to withdraw from supporting their clients in these key areas of their lives.
IKOR of Eastern Pennsylvania is trusted by legal, financial, and medical professionals. When care and normal living concerns are not being addressed adequately, we can be eyes and ears or provide support to family members. We also assist those who do not have family members who can help them.
We stay current on medical best practices by coordinating with all medical, psychiatric, and therapeutic modalities. We have relationships with the majority of private duty medical and home care providers. We are familiar with Medicare, Medicaid, and waiver programs. We are knowledgeable with local care resources, as well as local and state government programs and local living communities.
We regularly monitor changes in FINRA regulations affecting vulnerable individuals and the Seniors Safe Act to prevent financial exploitation. We are well-versed in the authorized expenditures of Special Needs Trusts, and we collaborate with several local Trust and Wealth Management Organizations to support their clients' care and everyday living needs.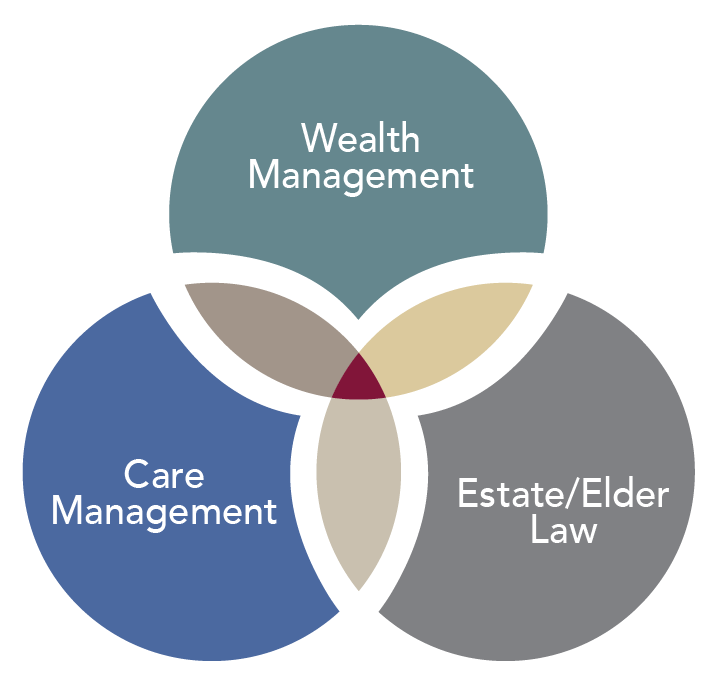 Professionals frequently come to us for assistance with one or more of the following areas of care for a client they support:
Assistance with medical or disability advocacy, medication management, and health and wellness concerns. We are experts in assisting with Special Needs Trust care and expenses. We assist Trust Beneficiaries with difficult medical, mental health, or disability issues.
Coordination of in-home caregivers or caregivers who live in the house
Planning and Execution of Crisis Intervention or Hospital Discharge
Unwanted influence or abuse suspected
Assist with Waiver Service and Program Coordination
Lease Agreements and Caregiver Agreements Support for persons living in Trust Owned Property under supervision
Recommendations for safety, house improvements, or car purchases
Large-scale purchase proposals for Trust Owned Properties
Recommendations for level of care
Recommendations for quality of care
An objective third-party review of a situation
Annual assessments for Vulnerable Adults' Care and Daily Living Concerns
Planning and assistance for Children with Special Needs
Oversight of care and routine living concerns
Life Care Plans, Cost Utilization, and Care Cost Projections
Cognitive Assessment, Support, Treatment, and Oversight
Visits to Care Communities to address care quality
Financial – Daily Money Management/Routine Bill Payment, or Durable Power of Attorney
Environmental areas, housing, safety, mobility and modifications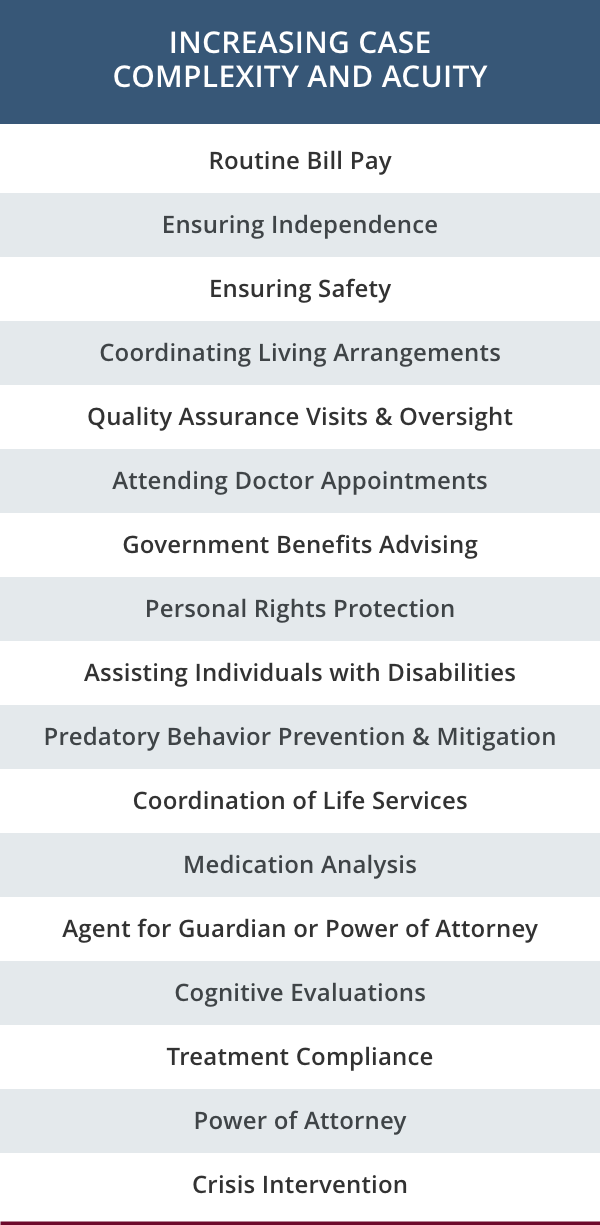 When You Work With Us, You Can Expect:
A reliable, trustworthy, and professional presence —By being a dependable presence in both good and bad times, we strive to support your best interests, foster trust, interconnection, and confidence.
Confidentiality  — We strive to gain your trust. We are aware that we are involved in some of your life's most private matters. We go above and beyond to protect your privacy and confidentiality.
Result-oriented innovation — Healthcare service providers often concentrate on how they've always done things. Many providers want you to fit into the way they do things. Unfortunately, they don't always provide what customers want or expect. Our Eastern Pennsylvania IKOR team is renowned for producing outcomes via innovation in both our work and our programs. We customize our services to fit your unique wants and situation.
Personal and organizational accountability — We make an effort to create a work environment that is transparent and accountable to you, your family, and our referral sources. Our invoices, notes, and conversations are precise, comprehensive, and transparent thanks to our web-based Datikor 2.0 system.
Collaboration — We strive to use the combined genius of our team and yours. We work to resolve disputes amicably and to encourage cooperation among all parties.
Commitment to your best interest — A fiduciary standard of care is something we support. We collaborate with anyone else you name while putting your interests first at all times.
FAQs By Our Financial and Legal Professional Customers