At IKOR of Eastern Pennsylvania, we handle the details of life and simplify the complexities of aging so our clients can focus on the activities they enjoy and spending time with family and friends. Our client-centered approach goes beyond traditional case management. Using a medically-based approach our Registered Nurse Advocates and Client Care Specialists identify and facilitate the delivery of essential medical, life care, and in-home care services. Our experienced life care management team can help manage the medical, financial and personal aspects of one's life.
Most of the time, we start with a Life Management Assessment Plan (LMAP), in which we try to understand the client's medical, psychosocial, environmental, and financial aspects of life from the standpoint of safety and quality of life. When necessary, we can address all facets of our client's life. Traditional geriatric care management services such as attending doctor's visits, medication management and interaction reports, residential needs assessment, on-site safety assurance evaluation, AND critical bill pay services are all available through our service. When a client needs assistance, we can provide limited or extensive services such as serving as a Power of Attorney or Guardian.
Managing Directors, RN Patient Advocates, Client Care Specialists, and Financial Advocates are among the members of the IKOR Life Management team.
Our advocacy staff collaborates with our clients to closely monitor them in their daily lives. Additionally, based on the client's functional capacities, we advocate using technology to decrease hazards and increase safety and security while keeping as much freedom as possible. Our team uses technology to monitor changes and potential concerns linked to safety, exploitation, or abuse.
Through our assessment process, the IKOR Life Management Team collaborates to analyze, plan, and manage ongoing situations, resulting in short- and long-term goals for each client.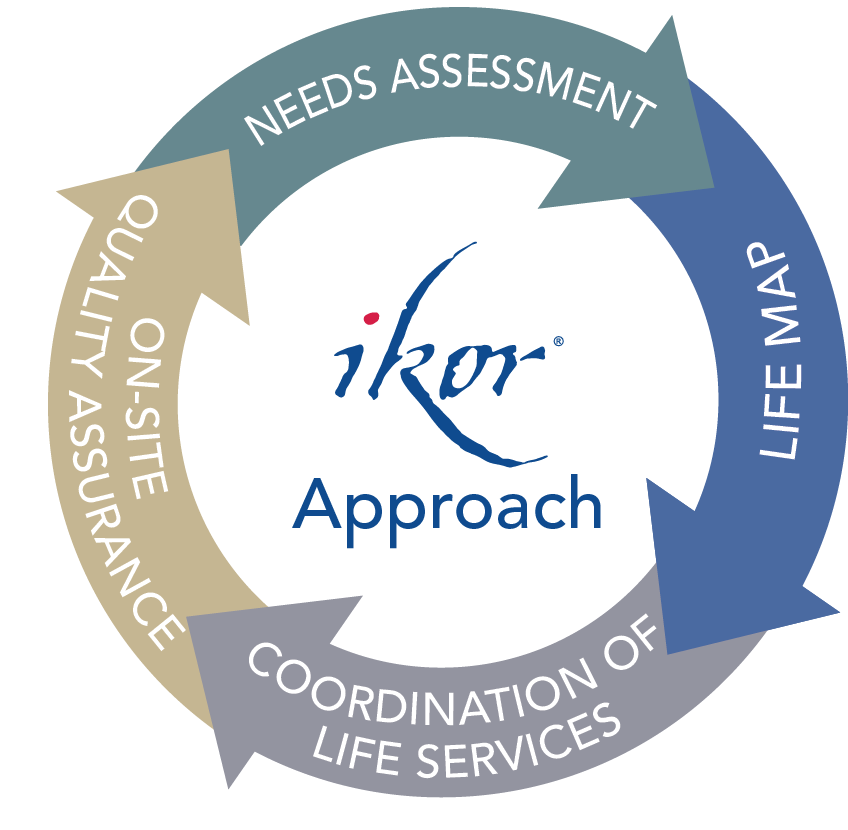 During The Asessment Process, We Look At:
Medical: The focus is on crisis prevention and safety concerns. We concentrate on inter-provider coordination, medication management, hospital discharge, care transitions, and understanding functional abilities in Activities of Daily Living (ADLs) and Instrumental Activities of Daily Living (IADLs), as well as on-call availability in the event of an emergency. We provide non-duplicative services, which means we use all accessible programs to assist the customer and give suggestions for programs that most people are unaware of. In addition, we will serve as Medical Power of Attorney.
Psychosocial: The impact of psychological factors related to the social environment on an individual's physical and mental well-being and capacity to perform is referred to as psychosocial. We incorporate the following in our assessment process:
Social: We promote active, engaging, and rewarding lifestyles, including new interests, undiscovered abilities, a broader network of friends, and volunteer work. Many people are concerned because they don't know what they want to do with their lives. Because we believe that purpose and socialization are critical to one's quality of life, we work with our customers to address purpose at every stage of their lives.
Cognitive: We assess and seek clinical care for cognitive impairment, Alzheimer's disease, and other dementias, as well as stroke, traumatic brain injury, and developmental impairments.  The intensity of cognitive impairment varies from minor to severe. People with moderate cognitive impairment may detect changes in their cognitive abilities but continue to be able to carry out their daily activities. Severe impairment can result in the loss of the ability to grasp the meaning or relevance of things, as well as the ability to speak or write, making it impossible to live independently.
Mental Health: We provide help for those with complicated psychiatric diagnoses, addictions, and mental health issues. In order to apply best practices, we assess care and support. Emotional, psychological, and social well-being changes are all part of mental health.
Environmental: IKOR aims to support our clients in remaining independent and aging in their homes for as long as it is safe and reasonable. We call it Aging in Place with a Plan, and we work hard to keep the residences in great condition. To modify or maintain houses, we partner with outside vendors, and we employ technology to solve unique physical or cognitive restrictions. If a client has to move to a retirement, assisted living, or group home, we may assist with the transition and continue to work with them later to aid with areas of care that such communities do not provide.
Financial: We develop budgets and keep track of cash flow on a daily basis. We assist clients in maximizing their eligibility for benefits and entitlements such as Social Security, SSI, Medicare, Medicaid, VA benefits, Long Term Care Insurance, and other income sources. We protect our clients from exploitative activity and ensure that they obtain high-quality service at reasonable costs. When necessary, we will serve as Power of Attorney and Guardian.