MEDICAL ADVOCACY & LIFE MANAGEMENT
A period of illness or injury is stressful for seniors, people with disabilities, special needs children, and their families. Even the best-laid plans may go astray, and no one is at their best when they are unwell. Seniors, individuals with disabilities, and families with children with special needs often require someone to watch out for their best interests and guide them through the complicated healthcare system. They need an advocate.
Allow an IKOR Advocate to assist you when you are unclear where to turn for help with life's challenges. IKOR Advocates can acquire a thorough perspective of our clients' lives and provide impartial recommendations to help them maintain or improve their quality of life through our Life Management Advocacy Plans.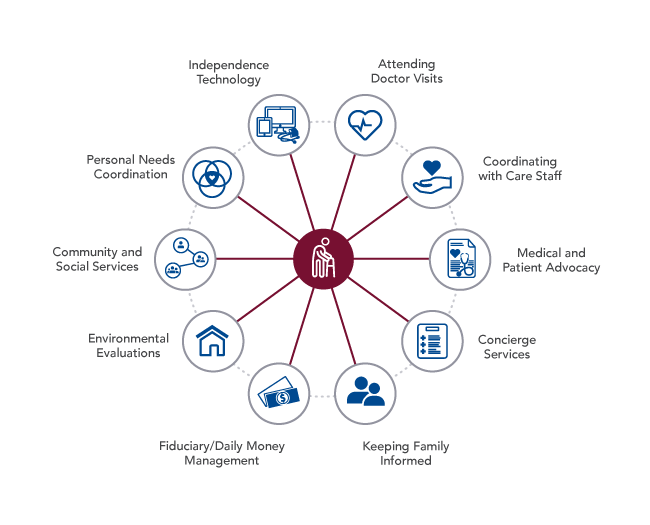 Beyond case management, we provide comprehensive life and care coordinating services to our clients. Our highly experienced team of professionals can assist you in managing your medical, financial, and personal affairs. At IKOR, we simplify the difficult aspects of life so that our clients and their families may focus on the most essential aspects of life.
Our medical advocacy team is made up of highly skilled Registered Nurse Patient Advocates who have worked in a variety of settings. Our RN Advocates have at least 10 years of diverse clinical experience and are assigned to clients depending on their needs and expertise. Our Client Care Specialists are social workers or mental health professionals that help our clients with psychosocial, (mental health, cognitive, and social) recreational, promoting change, interpersonal interaction, and a variety of other areas.  Our team members collaborate to help our clients in all parts of their lives by utilizing their expertise and skills.
Medical Advocacy Services
Our advocacy staff works with our clients to monitor them wherever they reside. Our patients live in their own homes, care communities, memory care facilities, group homes, and skilled nursing facilities. We offer in-person services and advocate for the use of technology to decrease hazards and increase safety and security.
The IKOR Life Management Team collaborates to assess, plan, and manage each client's continuing situations, establishing short- and long-term goals. Our clients' Life Management Assessment Plans (LMAP) and goals are revised at least yearly to help them maintain their quality of life and meet changing circumstances.